Ceiling Fan
Eco-Airx S series Ceiling Fan
Eco-airx
Description: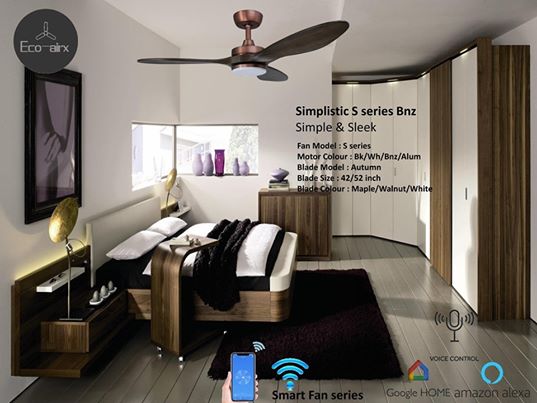 Eco airx is a energy saving ceiling fan which uses the state of the art technology. It's ultra silent operation is also best for a light sleeper who cannot stand the buzzing noise made from the AC fan. Couple with Premium natural wood to create a 3D aerodynamic blade handcrafted to perfection to achieve the best wind velocity that most brand cannot achieve. The key important parts made with the highest quality materials available to ensure a smooth and seamless operation. It also has a smooth dimmable LED light kit controllable with a remote control, allowing users to set the ambiance of the environment to their liking.
Listed below are the information on Eco-Airx S series model:
Motor Color: White / Black / Bronze / Aluminium
Blade Color: White / Maple / Walnut
Blade Sizes: Autumn 42 inch Autumn 52 inch (+$20.00) Comfy 46 inch Comfy 56 inch (+$20.00)
LED Light Kit: (Optional) Osram 20W RGB 3 Tones - Dimmable (+$80.00)
Smart Fan Wi-Fi Driver: (Optional) (+$50.00)
Remote Control Buttons - Cool: Once activated, the fan will auto spin for 5 minutes every 2 hours. Why so? This function will cool the house temperature and improve the air's circulation during daytime as Singapore's weather is humid. Upon returning home, the house would be cooler. Breeze: Once activated, this function regulates the speed fan of 3-6 and 6-3 continiously. Reverse mode: Activate this during cold weather, the cooler air will draw upwards, which forces the warmer air near the ceiling back down into the space.
Warranty: 2 years on all parts, 2 year on-site, lifetime on motor
Free installation for concrete ceiling below 3 m.
For False ceiling below 3m, please top up $100 and pay to contractor directly
Currently one of the first few DC ceiing which allow you to use it with your Google home or Amazon Alexa.
You can also download the APP and use your phone to control the fan.
The fan is available in various sizes whereby you can select the different color choices as well.