Philips Hue
Philips Hue Lightstrip Plus 2m
Philips Hue
Out of Stock
Description: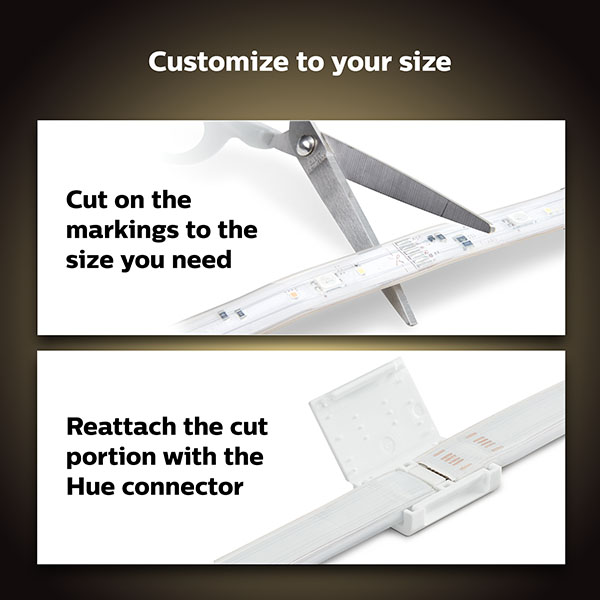 Philips Hue White and Color Ambiance LightStrip Plus 2m Base Kit, Dimmable LED Smart Light, Bluetooth & Zigbee compatible, Works with Alexa, HomeKit & Google Assistant)
This set of Philips Hue LightStrip Plus 2m Base Kit is required to add additional 1 m extensions, up to 10 m, to cover larger surfaces and enable wider applications.

Transform your living room, bedroom, kitchen and other rooms with millions of colors and shades of white light, sync to games, music and movies for improved experiences.
Colourful, flexible, powerful - with a simple and easy setup, start adding color under kitchen cabinets, kitchen islands, bed frames or behind your TV in no time, Easily bend, cut (at the indicated positions) and stick the LightStrip to any solid surface using the adhesive tape and get the flexibility you need.

2 CHOICES FOR EASY SMART LIGHTING: Simply want to set the mood? Start with Bluetooth app control. Add up to 10 Hue Bluetooth/Zigbee smart bulbs with the (free) Hue Bluetooth app. Control them all with just the touch of a button on your mobile device or your favorite voice assistant. Add the Hue Bridge to for whole-home smart lighting (up to 50 light points) and bonus features.

PREVIOUS PHILIPS HUE CUSTOMERS: This smart light, while Bluetooth compatible, will continue to work with your Hue Bridge and can be seamlessly integrated into your Hue Ecosystem. Continue to light your home smarter with Philips Hue.

CONTROL LIGHTS WITH YOUR VOICE: Philips Hue system is compatible with multiple home automation systems like Amazon Echo, Google Home, Apple HomeKit, Nest, Samsung SmartThings, Razer and IFTTT.

UNLOCK HUE'S FULL POTENTIAL: For the full set of smart light features, add a Hue Bridge (sold separately) to your smart lights to experience the full set of Philips Hue features. With a Hue Bridge, you can control up to 50 smart lights throughout your home (even outdoor!). Create timers and routines to automate your entire smart home lighting setup; use your lights to wake up and go to sleep; or make it look like you're home when you're on vacation using presence mimicking features. Control your lights while away from home or add accessories such as motion sensors and smart switches to further enhance your experience. The possibilities are yours to unlock when you add the Hue Bridge (sold separately)

EASILY EXPAND YOUR SMART HOME: Once you add the Hue Bridge you can sync your Hue smart lighting with other Smart Home Devices like Apple HomeKit or SmartThings systems. Sync your lights with Music or PC Games with the (free) Hue Sync software on your PC. Easily expand your smart lighting system with accessories (sold separately), such as a Hue Dimmer Switch or Hue Motion Sensor.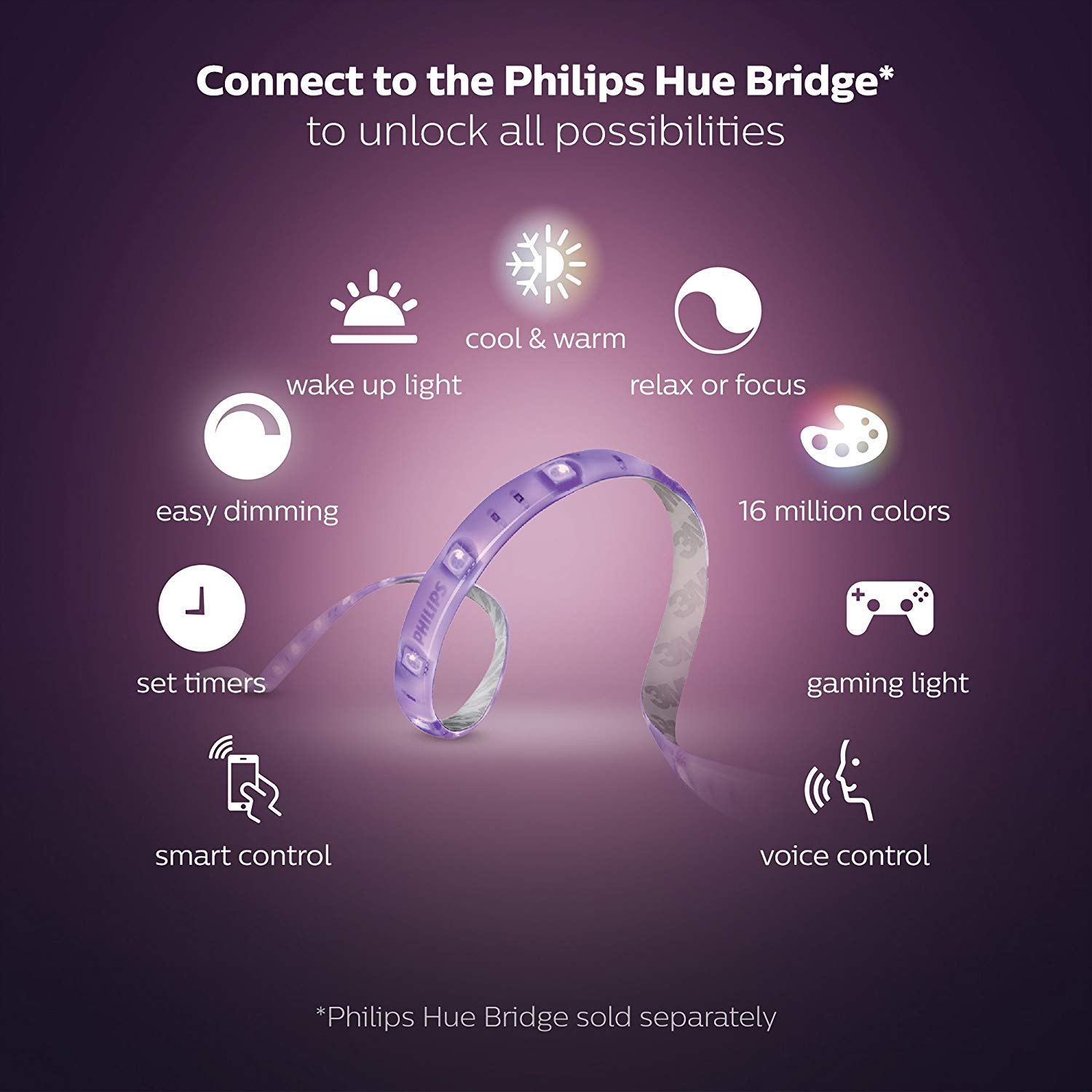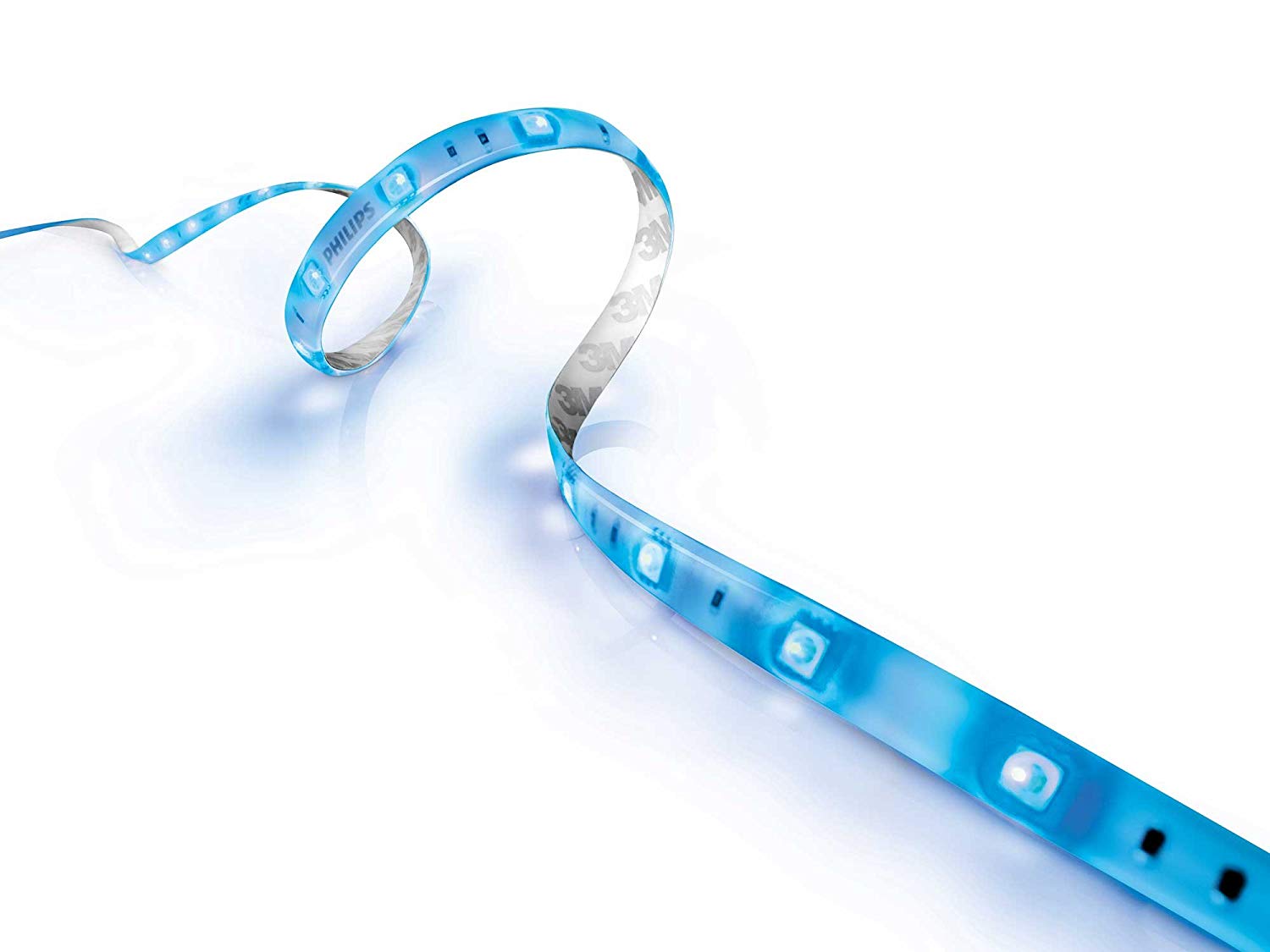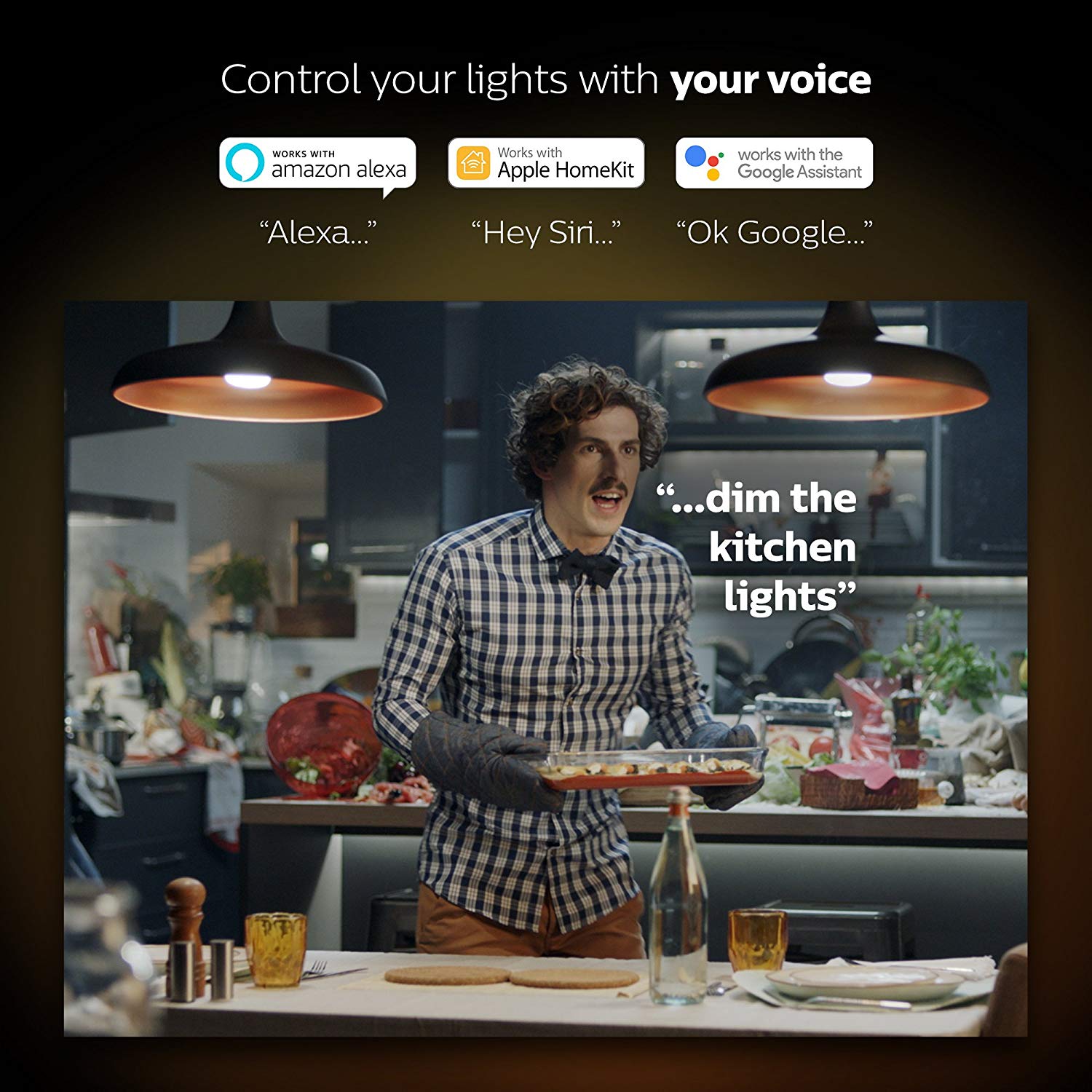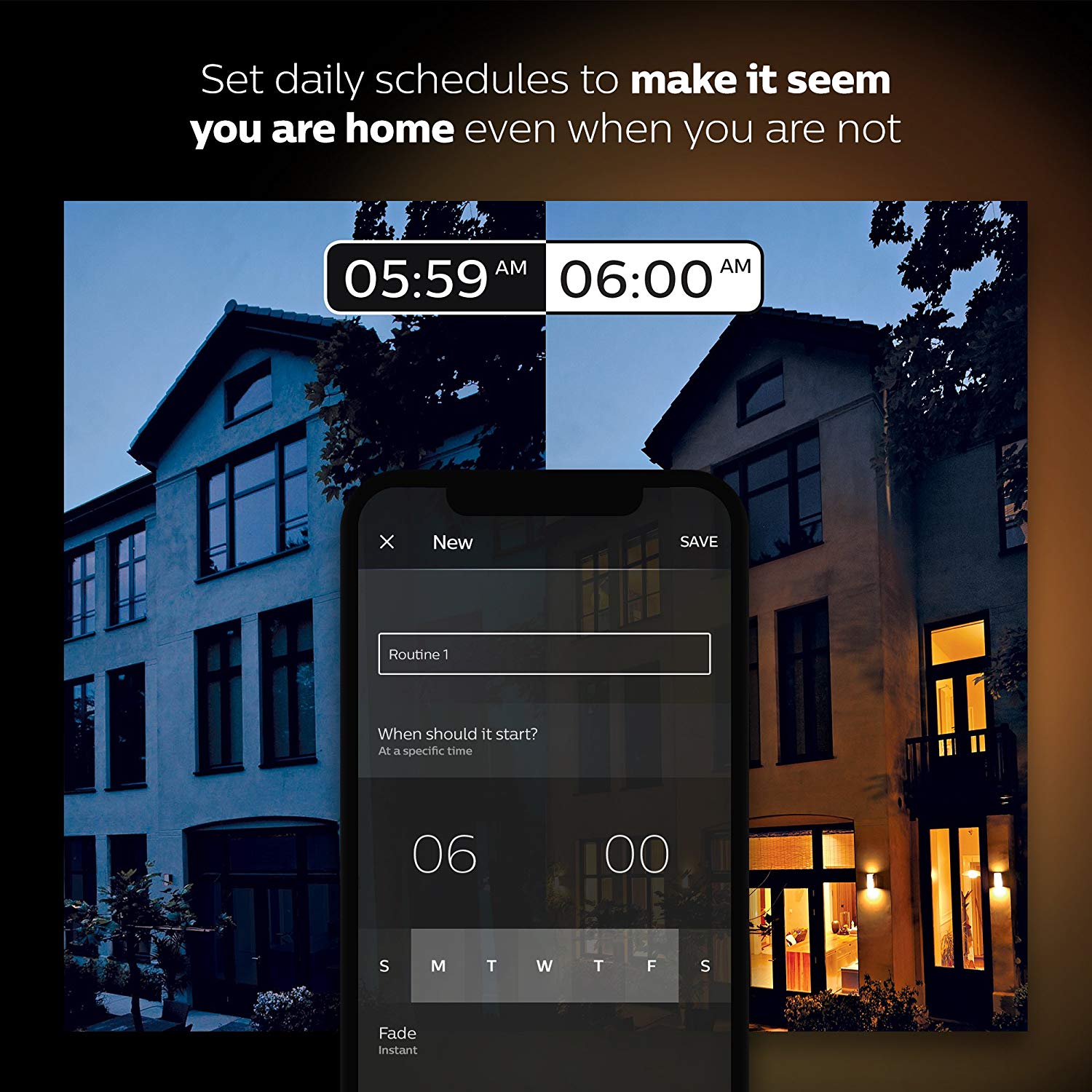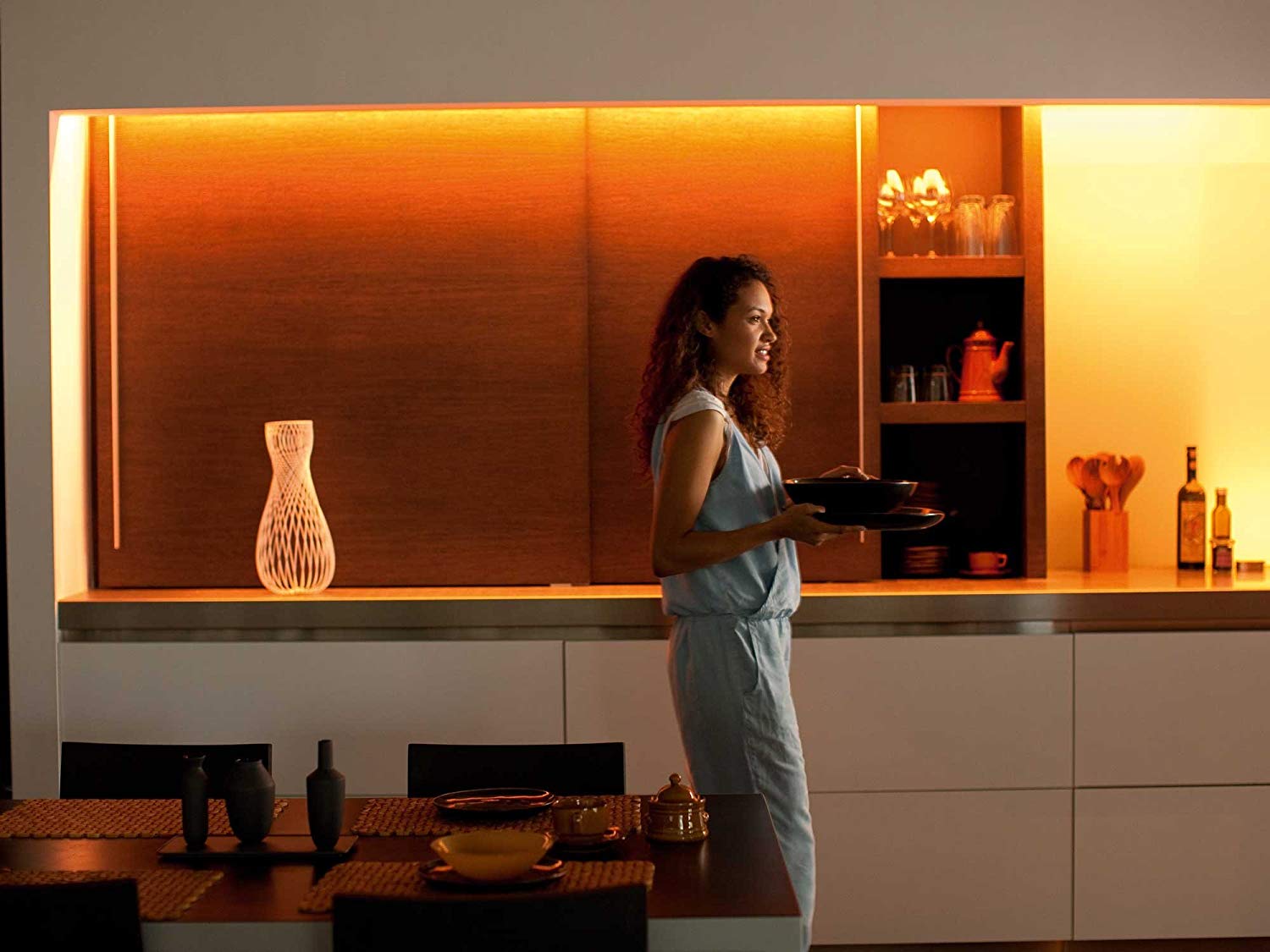 Lifetime up to 20,000 hour(s)

Mains power 50-60 Hz

Fixture dimmable Yes

LED Yes

Number of bulbs 1

Wattage bulb included-

IP code IP20

protection against objects bigger than 12.5 mm

no protection against water

Class of protection II - double insulated




Height 0.5 cm

Length 200 cm

Net weight 0.337 kg

Width 1.5 cm




Total lumen output Fixture: 1600

Including extensions: 1600

Wattage 20 W




Color changing (LED) Yes

Diffused light effect Yes

Dimmable Yes

LED integrated Yes

Power adapter included Yes

Universal Plug Yes

ZigBee Light Link Yes




Color multi color

Material synthetics